Onze Tweede Kerstdag begint echt heerlijk rustig. Op een of andere manier hebben we met ons gezin besloten om deze Kerstmis niet te hysterisch te doen met ontbijten, diners, tussendoortjes, verplichtingen. Maar vooral de rust bij en met elkaar te zoeken. We spelen bordspellen (Levensweg FTW!), kijken films, borrelen tussendoor. Heerlijk. Een mooie dag om aan een nieuwe hobby te beginnen, om te zien of het me ligt.
Diorama's bouwen
Eind 2020, begin 2021 raakte ik gefascineerd door diorama's en miniatuur bouwwerken. Misschien komt het door bouwmarkten en winkels die elk jaar kerstscenes bouwen in de etalages. Je kent ze wel, de kleine scenes met wintersporters, Charles Dickens-achtige huisjes en sneeuwpoppen. Meestal loopt daar ook een trein door.
Ik vind die bouwwerken machtig interessant, maar wat ik echt boeiend vind zijn de makers die dit soort objecten helemaal zelf maken. Die gaan net iets verder dan een aantal voorgebouwde huisjes en bomen goed wegzetten. Zij maken bijna alles zelf. Bijvoorbeeld Black Magic Craft hieronder
Ik vind dat echt fantastisch. Je maakt iets compleet nieuws en gooit er je eigen fantasie en verhaallijnen in. Ik zou willen leren om realistische straatscenes te maken. Zoals de levensechte Miniature Urban Sculptures van Alan Wolfson. Hij maakt New York na in het klein. Met omgevallen vuilnisbakken, graffiti op de metro en rotzooi op straat. Prachtig gemaakt! Een andere richting die ik wil onderzoeken zijn diorama's van game-scenes. Het liefste de oudere 16 bits games als Super Mario World, Zelda of Metroid. Ja, ik verzamel op Pinterest de voorbeelden. Ik ben een Pinterest-punk! 😉
Dit begon dus een jaar geleden. Ik heb me toen voorgenomen dat ik er niet direct in zou duiken. Maar het even wat laten rondzwerven in mijn hoofd, om te zien of het na een langere periode nog steeds iets is wat ik zou willen doen. Ik bleef gedurende het jaar wat makers volgen op Instagram en zo nu en dan bekijk ik wat Youtube video's hoe echte professionals de meest fantastische bouwwerken maken.
Kerstcadeau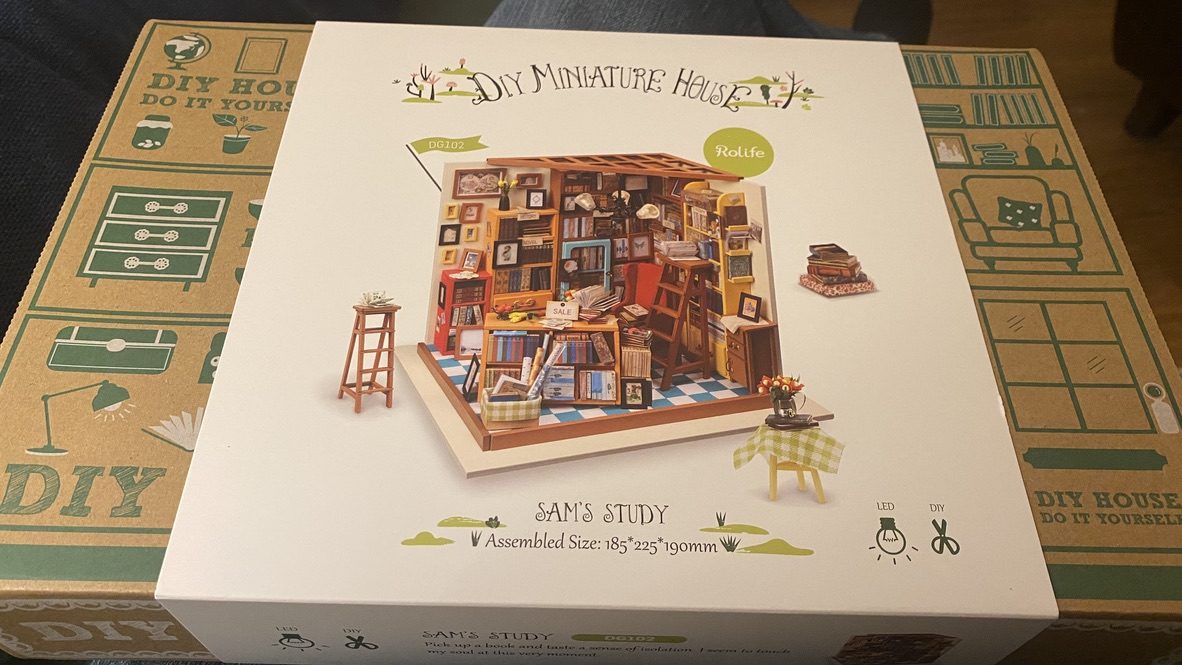 Daarom kreeg ik deze Kerst Sam's Study als DIY Miniature House. Dit hoef ik (gelukkig) niet helemaal vanuit niets te maken, maar het is wel een behoorlijk complex bouwpakket. Ik heb nog nooit zoiets gemaakt en ik ga het eens proberen. Om te zien of ik het geduld heb en stomweg of ik het leuk vind. Wie weet wat er uit komt en of ik volgend jaar meer eigen diorama's ga maken. Of eigenlijk Miniature Urban Sculptures. Die term bevalt me wel…
Wish me luck! En ja, ik kijk nu ook elke zondag Klein maar Fijn 🙂