De sint is in het land, zijn staf is veilig. Gelukkig maar! Hopelijk zijn de discussies rondom de traditie nu tijdelijk verstomd en kunnen we het een kinderfeest laten. Deze week in de leesmap weer een breed assortiment artikelen. Her en der op het internet gevonden. Veel leesplezier!
Deze dagen zie ik langs alle kanten jubelverhalen over Coin, dé vervanger voor alle pasjes in je portemonnee. Ik vind het een erg interessant concept maar zie het graag met pin- en chipmogelijkheden. Logisch.
Ik las gisteren een geweldig overzicht over de strategieen van infomercials. Van prijsstrategie tot inhoudelijke salespitch. Heel interessant en verrassend. Het is een longread, dus neem er de tijd voor. Of sla hem op in Evernote of Pocket voor later.
De juiste manier van je tijd verdoen zorgt voor meer productiviteit volgens onderzoek van Brent Coker in Australië. Ik vind het de ultieme lifehack! "If you want to get the most out of your time-wasting, stare at random YouTube babies, not the babies of your Facebook friends."

Een ode aan creativiteit. Twee ouders besluiten hun kinderen een verrassende maand te geven. Elke avond gaan hun speelgoed dinosaurussen op pad in huis. Gelukkig hebben we de foto's nog en dit prachtige verhaal. "[…]in the age of iPads and Netflix, we don't want our kids to lose their sense of wonder and imagination."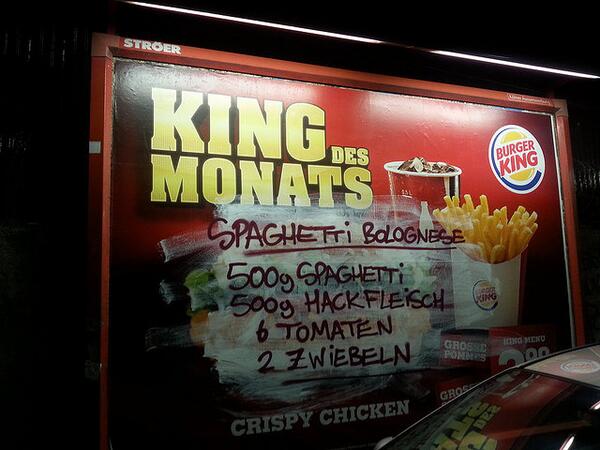 En de uitsmijter van deze week. Een kicken guerrilla street art campagne waarbij posters van fastfoodketens worden beplakt met gezonde recepten. Want echte spaghetti is toch veel lekkerder dan hamburgers van mysterymeat?
Nog eentje dan. Speciaal voor de Google+ volgers en Brendan Thesingh in het bijzonder. Hier Brendan, voor het onderzoek en omdat het #caturday is!