Als het dan gaat sneeuwen, laat ik in elk geval proberen dat vast te leggen! Dat bedacht ik natuurlijk weer té laat vanavond. Gelukkig had ik een Raspberry Pi behoorlijk gebruiksklaar liggen en een PiCamera. Beiden een paar jaar geleden gekocht voor één of ander project. Wat nooit kwam. Maar nu wel. Het voordeel is dat de Pi en de camera behoorlijk uitgebreid zijn. De Pi heeft ingebouwde software om eenvoudig snapshots met de camera te maken. Online zijn stapels handleidingen te vinden om een timelapse te maken van beelden. Of in elk geval de losse beelden te maken. Omdat de meeste foto's 's avonds en 's nachts worden gemaakt, moest ik wat experimenteren met de ISO waarde en andere instellingen van de camera. Dat is redelijk gelukt denk ik. Dit is de meest recente foto van onze achtertuin, rond 22:47 uur.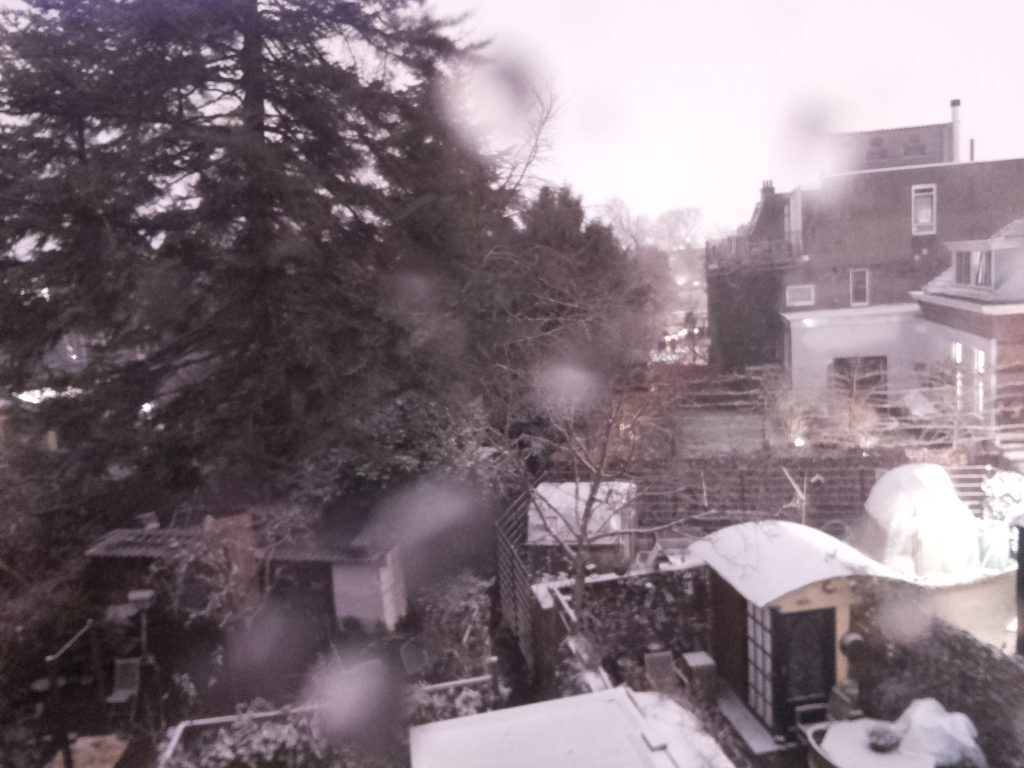 Eigenlijk moet ik de camera iets naar beneden richten zodat ons achtertuintje en plat dak meer zichtbaar is. Maar die zit inmiddels met ductape aan het raam vastgeplakt, dus laat maar lekker zitten. Het is een leuk experiment. Ik ben benieuwd wat ik morgenochtend aantref in de map op de Pi en hoe de timelapse wordt.
Als je het script wilt voor de Raspberry Pi om zo'n serie foto's te maken, hier kun je de code vinden. Op je Pi laat je het script continu lopen door via SSH in je Terminal naar de Pi te gaan en daar te typen
sudo python /jouw/pad/naar/time-lapse.py &
Vanaf dat moment krijg je elke minuut een nieuwe foto in dezelfde map. Morgen, als we terugkomen van het sleeën en sneeuwballen gooien, ga ik eens uitvogelen hoe ik er een timelapse van maak. Daar zijn genoeg handleidingen voor te vinden, dus dat moet wel goed komen! Nu is het hopen dat de Pi de hele nacht blijft werken.