Voor veel onderdelen van het web en de digitale maatschappij blijven programmeurs en goede designers onontbeerlijk. Maar er zijn genoeg scenario's te bedenken waar je zelf graag even een app voor maakt. Of dat nu voor je telefoon is of je desktop. De afgelopen jaren is er een flinke groei gekomen in de No Code tools en vriend van dit blog Erwin Blog heeft ze allemaal geprobeerd en op een rij gezet voor je!
Zijn No Code Toolkit geeft je in een app (eat your own dogfood!) een overzicht van zo'n 100 diensten waarmee je zonder diepe programmeerkennis je eigen app kunt maken. Verwacht geen A.I.-gedreven streaming video apps die eveneens een gecureerde tijdlijn voor je maken. Maar veel basic oplossingen zijn goed mogelijk met allerlei losse apps. Zo ben ik sinds kort mijn privé administratie aan het bijhouden in Airtable (referral link), naast mijn lijst met ultieme highschool films. Beiden in Airtable, dat is prima te doen.
Of wat te denken van Bert de Boer, hockeycoach bij Kampong in Utrecht? Zie onderstaande tweet.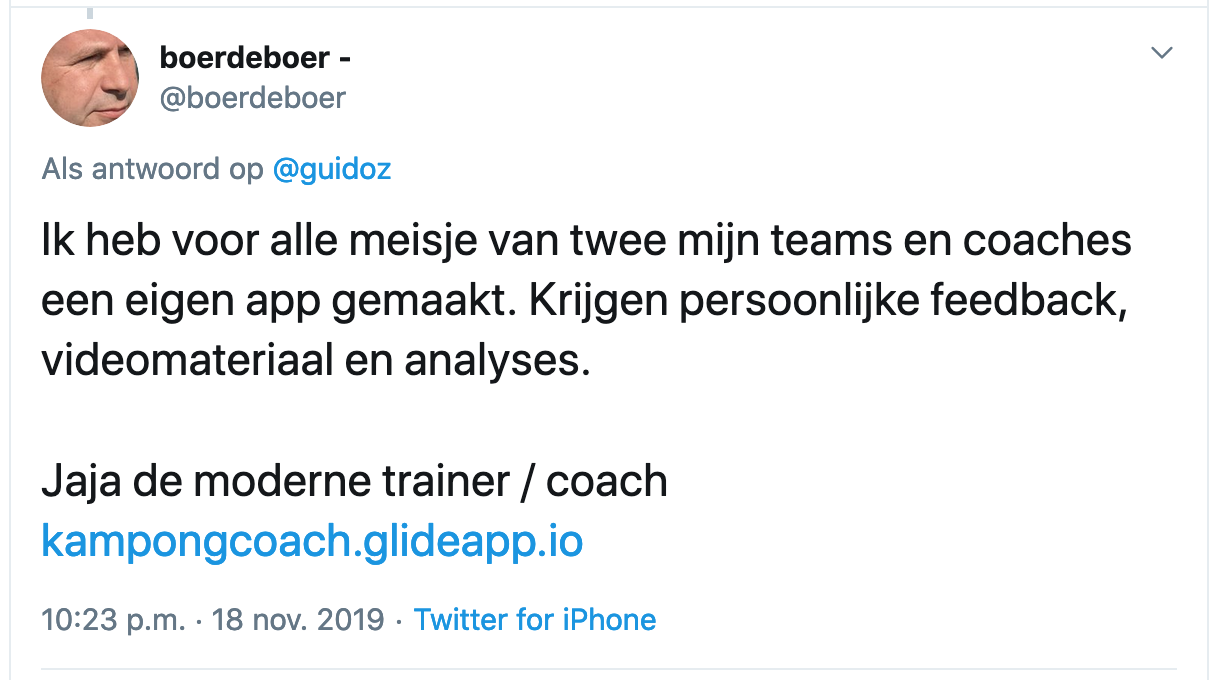 Ik vind het geweldig. Naar eigen zeggen "een middagje klooien" levert hem al een fraai resultaat. Ik ga eens nadenken waar ik echt behoefte aan heb wat ik mogelijk zelf kan maken met een van de apps die Erwin aanbeveelt. Of ik doe mee aan zijn Bouw 4 apps in 4 weken cursus en kijk wat daar uit komt. Oh de keuzes….
Een nieuwe beweging in tech is pas serieus als er conferenties over zijn. Gelukkig is er de NoCodeConf van Webflow. Alle slides, video's en reviews zijn in online te lezen!
PS: Moet ik als Pearl Jam fan nog iets zeggen over de term No Code? Of laat ik het hierbij?