Hoe zou jij het vinden als je op zaterdag de weekendeditie van je krant van de deurmat wil pakken en je vindt een stapel losse pagina's verspreid door de gang? En op die pagina's staat van linksboven tot rechtsonder de krant geprint. De verhalen staan er, maar je ziet niet wat het belangrijkste is. Je ziet niet waar het ene verhaal eindigt en het volgende begint. Je hebt geen idee waar je naar kijkt want alles is in een standaard lettertype op de pagina's geprint.
Ik geef u, RSS: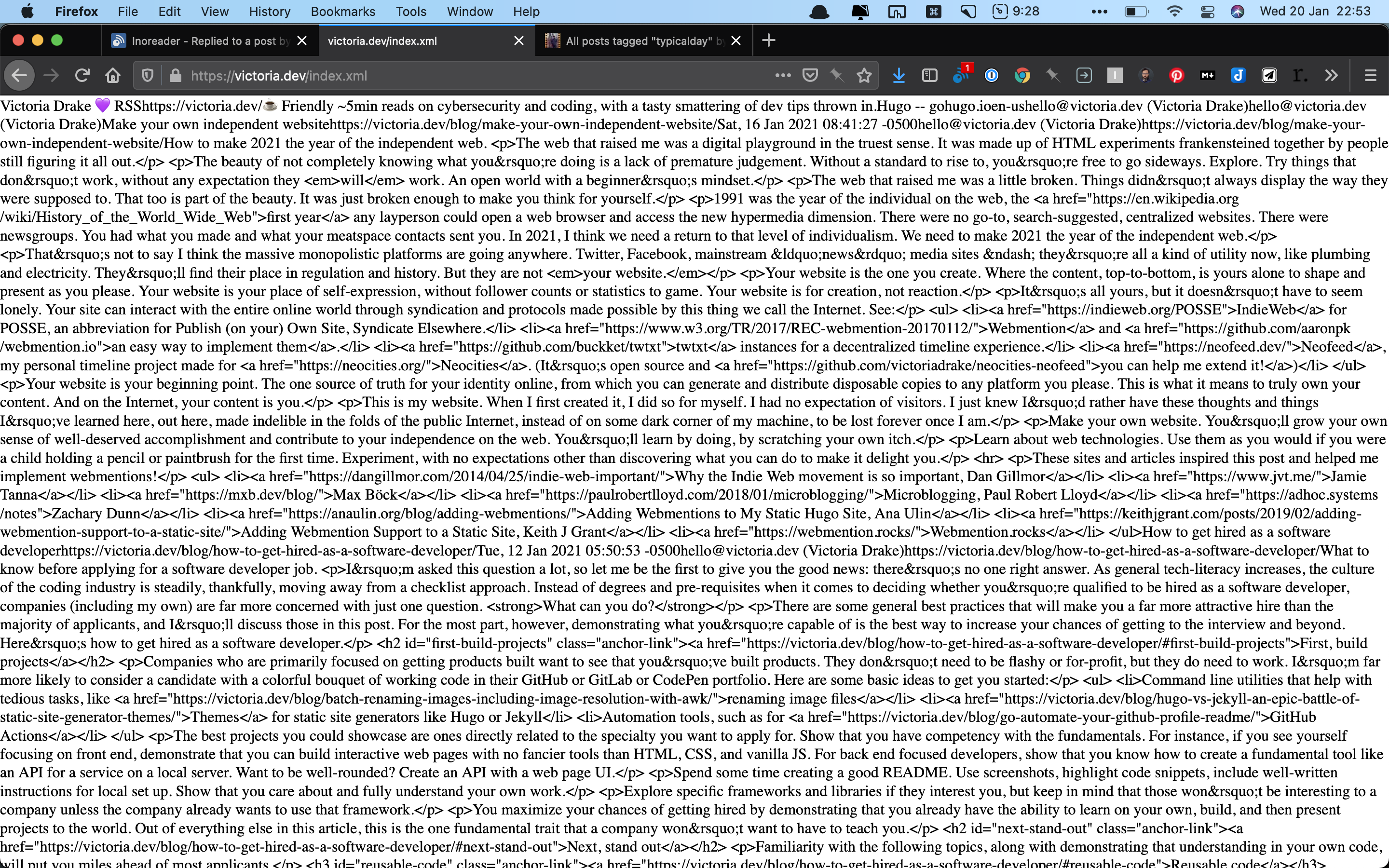 Zo zit dat dus ook met RSS feeds in je browser. Klik op de link "Abonneer je via RSS" en je krijgt dit te zien. En ja, als je een RSS reader hebt geïnstalleerd of een Feedly plugin of weet ik veel wat, dan kan het er allemaal netter uit zien. En ja, met die oude Feedburner links zag het er ook overzichtelijker uit. Maar waarom wordt een 15 jaar oud protocol als RSS nog zo schandalig behandeld door browsers? Ik weet echt wel dat er uitzonderingen zijn. Ik weet dat er oplossingen zijn. Echt, je hoeft me niet uit te leggen wat er allemaal kan met RSS 😘
Het gaat er mij om dat browsers standaard zo slordig en achteloos met feeds om gaan. Ik vind dat echt jammer. Het zou zoveel mooier kunnen. Als ik zie hoe browser teams vorderingen maken in de Developer Tools van hun product. Dat is de garage aan de achterkant van je browser, dat schuurtje met gereedschap voor webprogrammeurs, waar ze de code kunnen bekijken en manipuleren, netwerk-verkeer bekijken, scripts kunnen testen. Daar is enorm veel in mogelijk. Het zou zo mooi zijn als in 2021 een team het op zich neemt om van RSS feeds een first class citizen te maken in de browser. Want dat – slaat hand op tafel – verdient het wel eens een keer.
Goed. Tot zover even mijn frustratie over RSS feeds. Terwijl de site van Victoria echt fantastisch is!