Ik kwam er nu eens aan toe om meer naar FeedLand te kijken, het nieuwe project van Dave Winer. Voorheen was dit nog besloten voor een groep beta-gebruikers, maar het lijkt er op dat je nu met je Twitter account eenvoudig toegang krijgt.
FeedLand is een feedreader zoals Dave Winer die het liefste ziet. A river of news. Alle nieuwe posts staan onder elkaar en je scrollt er eenvoudig doorheen.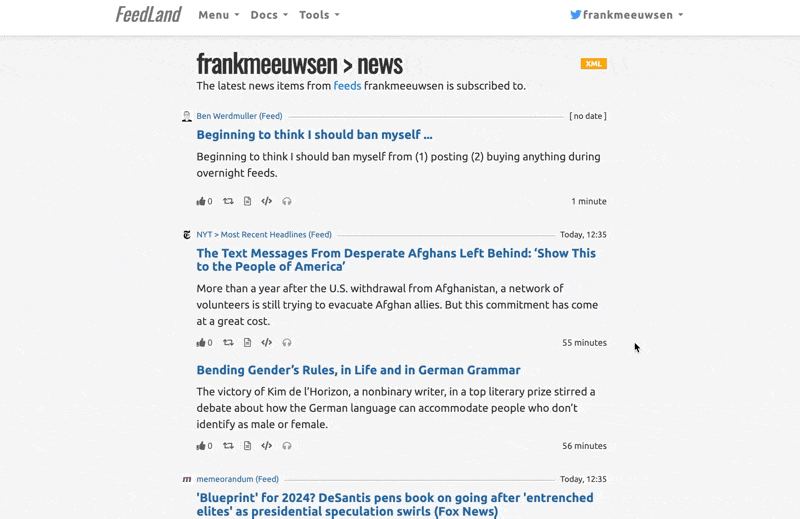 Je kunt een los artikel direct delen op je Radio3 Linkblog (een ander Dave Winer product). Ik moet er nog dieper induiken, Dave heeft de gewoonte om allerlei interessante nieuwe mogelijkheden te verstoppen in menu's en onder knoppen.
Eén interessante feature vind ik wel dat ik kan zien wie naast mij op een individuele feed is geabonneerd. Dat is een signaal van gedeelde interesse. En ik kan zien welke feeds de ander heeft, wat voor mij mogelijk weer interessant kan zijn. Hieronder zie je de andere abonnees van Amit's Excursions. Ik kan doorklikken op een naam en die feedlijst weer zien. Om me daarna daar op te abonneren.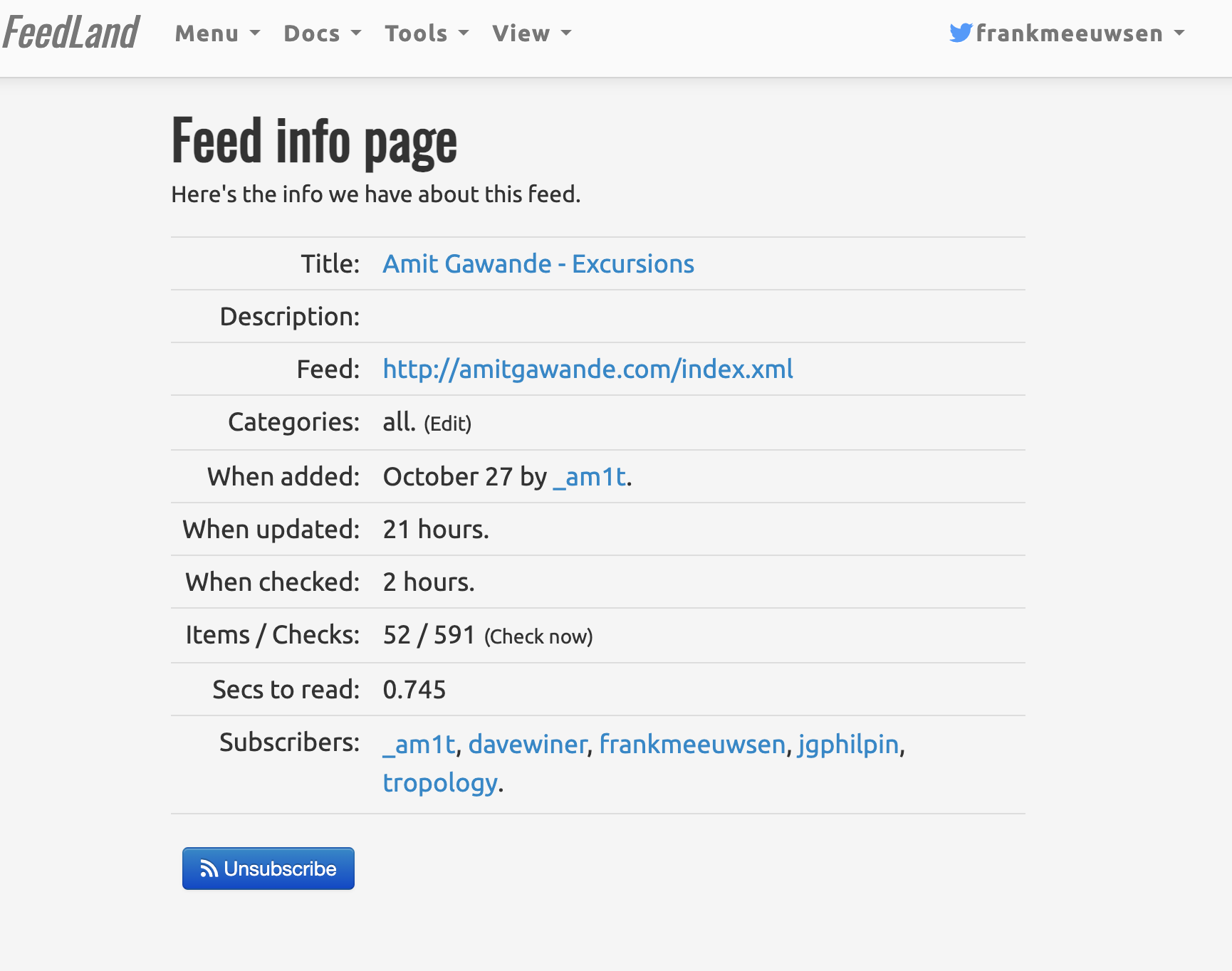 Door eenvoudig aan te vinken welke feeds ik interessant vind ben ik er op geabonneerd.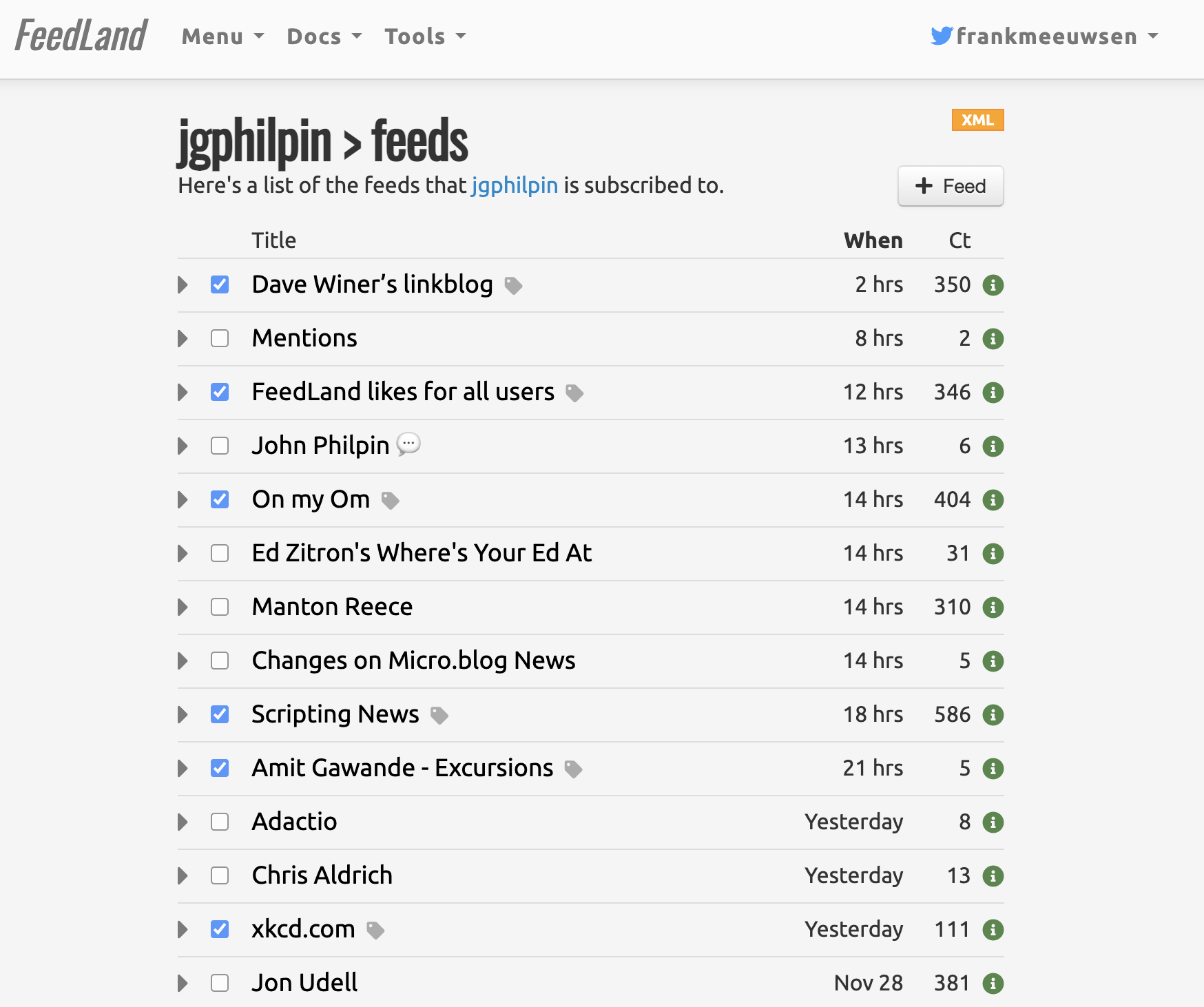 Er zitten interessante mogelijkheden in FeedLand en het mooi dat Dave blijft doorbouwen aan het open web. Hij is nu minstens zo enthousiast over Mastodon en de Fediverse. In zekere zin is zijn FeedLand net zo goed een ecosysteem van abonnementslijsten. Het ecosysteem is verbonden door de gedeelde interesses. Zo ontstaat weer een netwerk. Rondom blogs, nieuws en documenten. Ik zie hier nog wel een koppeling met andere netwerken ontstaan zoals Mastodon. Waarbij je ook zou kunnen publiceren vanuit FeedLand naar een netwerk als Mastodon? Of een eenvoudiger koppeling met zijn Drummer blogging tool.
Mooi spul allemaal!