Dave Winer werkt naar de 20e verjaardag van RSS toe, medio september. Een van zijn nieuwe services is TweetFeed. Zoals op de site is te lezen: "With TweetFeed you can broadcast your tweets to people with RSS readers." Nadat je je Twitter account koppelt aan de service krijg je een RSS-feed van je Twitter feed.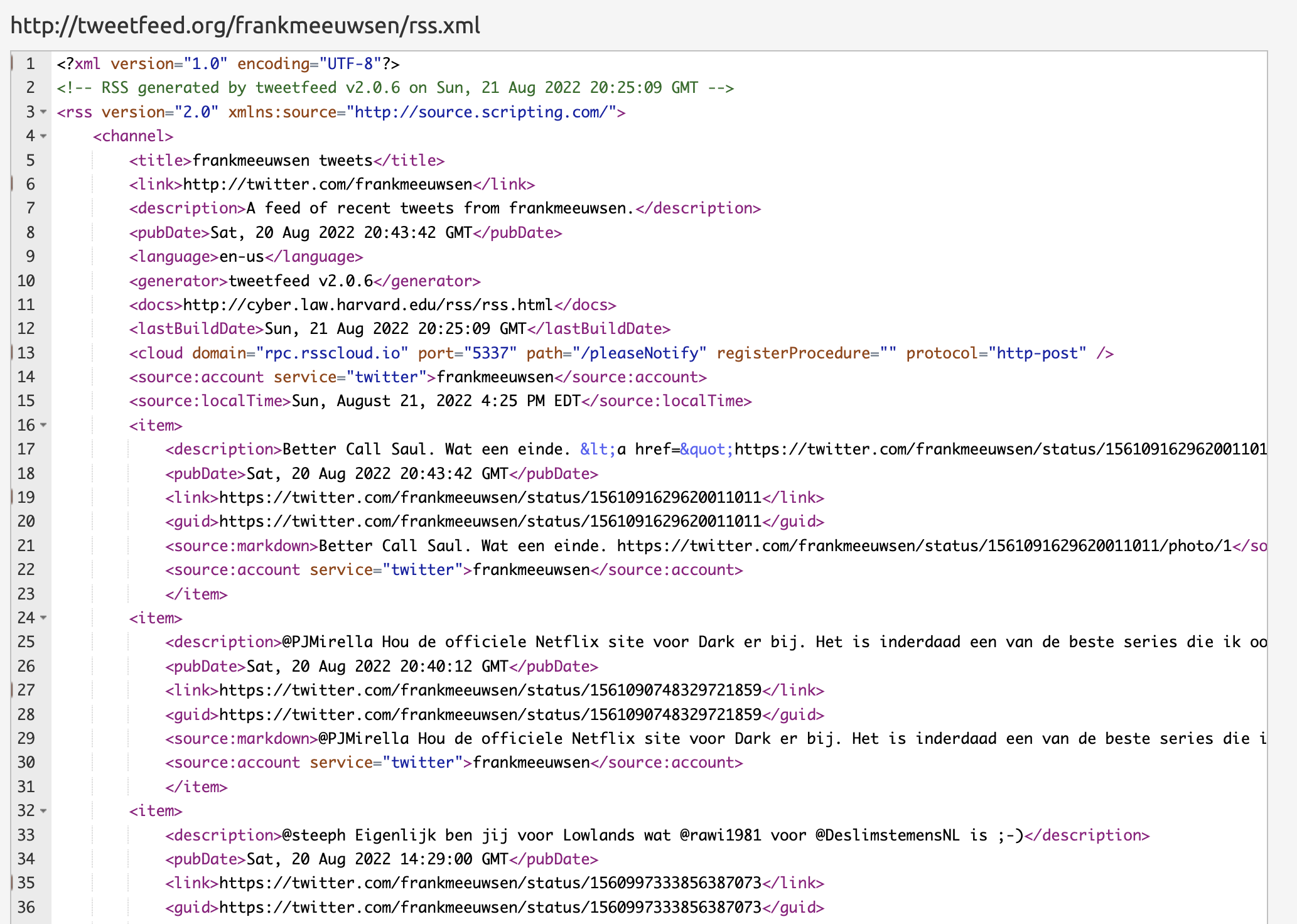 Maar ik vraag me af voor wie Dave Winer dit maakt? Degenen die Twitter feeds via RSS willen volgen, kunnen al lang bij diverse feedreaders terecht die dit zelf aanbieden. Je kunt dan elke Twitter feed volgen in je RSS reader. Ik kan met TweetFeed alleen mijn eigen Twitter account aanbieden, maar (nog) geen lijsten of specifieke hashtag searches.
Daarnaast vind ik het storend dat de link naar mijn feed (http://tweetfeed.org/frankmeeuwsen/rss.xml) onder water een andere service gebruikt, namelijk een speciale viewer, zie ook het screenshot hierboven. Als ik de feed kopieer om in een feedreader te gebruiken dan vind de reader geen artikelen. Het zou volgens mij beter zijn om de feed beter leesbaar te maken met een XSL-stylesheet, zoals ik met mijn feed heb gedaan.
Hoe dan ook, fijn om te zien dat RSS nog altijd de aandacht krijgt die het verdient.