Ondanks dat ik geen eigen nieuwsbrief meer heb, hou ik nog zijdelings bij wat er op dat domein gebeurt. Ik vind de processen naar een publicatie altijd enorm interessant. Welke instrumenten gebruikt iemand, hoe maken ze keuzes om iets wel of niet te doen, zijn er stappen op het pad die ik kan hergebruiken op mijn eigen manier?
How I Curate My Newsletter van Rishikesh Sreehari is een mooi voorbeeld. Hij legt uit hoe hij van browser naar Obsidian naar Substack beweegt in het maken van zijn wekelijkse nieuwsbrief, 10+1 Things. Mijn oog viel vooral op zijn gebruik van de Hemingway Editor. Deze app helpt je om je schrijfstijl meer tot leven te brengen. Het markeert lange en complexe zinnen, laat zien waar je passief woordgebruik inzet of waar een zin mogelijk te lang wordt voor de lezer, zodat die de draad kwijtraakt en niet meer weet waar je het nu eigenlijk over hebt.
Zoals de vorige zin dus.
Ik ken de Hemingway Editor, maar gebruik zelf sinds kort LanguageTool. Dit doet veel hetzelfde als Hemingway, maar in meerdere talen waaronder Nederlands. Zowel in spelling, stijl, grammatica, interpunctie en voorstellen voor beter taalgebruik.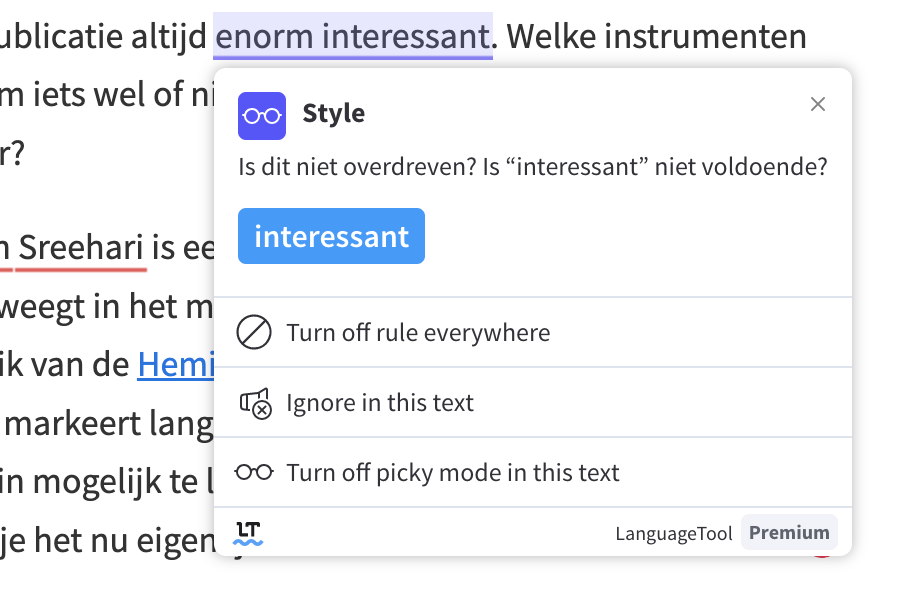 Ik heb het gevoel dat ik meer gevarieerd schrijf door het gebruik van LanguageTool. Ik ben me meer bewust van mijn taalgebruik en hoe ik afwisselende zinnen kan schrijven. Nu kan alleen een AI-app dat niet oplossen voor je. No way. Daar is meer voor nodig. Bij Kaliber Studio trainen we elkaar en met hulp van externen op betere redactie, betere schrijfstijl en daar waar het begint, betere vragen stellen.
Het gebruik van intelligente apps om je eigen werk beter te maken vind ik een prima vooruitgang. Zeker nu de intelligentie steeds beter wordt. Tegelijk is het belangrijk om je bewust te blijven dat een eigen schrijfstijl niet uit een bak verzamelde teksten en een algoritme komt. Die stijl zul je nog altijd zelf moeten ontwikkelen. Een algoritme kan de details verbeteren en je een extra zetje geven.