Snuffelen in andermans notitieboek. Toegang tot de notitie-app op iemands telefoon. Zo voelt het. Sinds ik me heb geabonneerd op de aantekeningen-stroom van Chris Aldrich kan ik meelezen met zijn gedachten bij artikelen. Hoe de interesse in de Kunst van het Notities Maken zich ontwikkelt. Hoe hij verschillende bronnen samenbrengt in zijn eigen notities.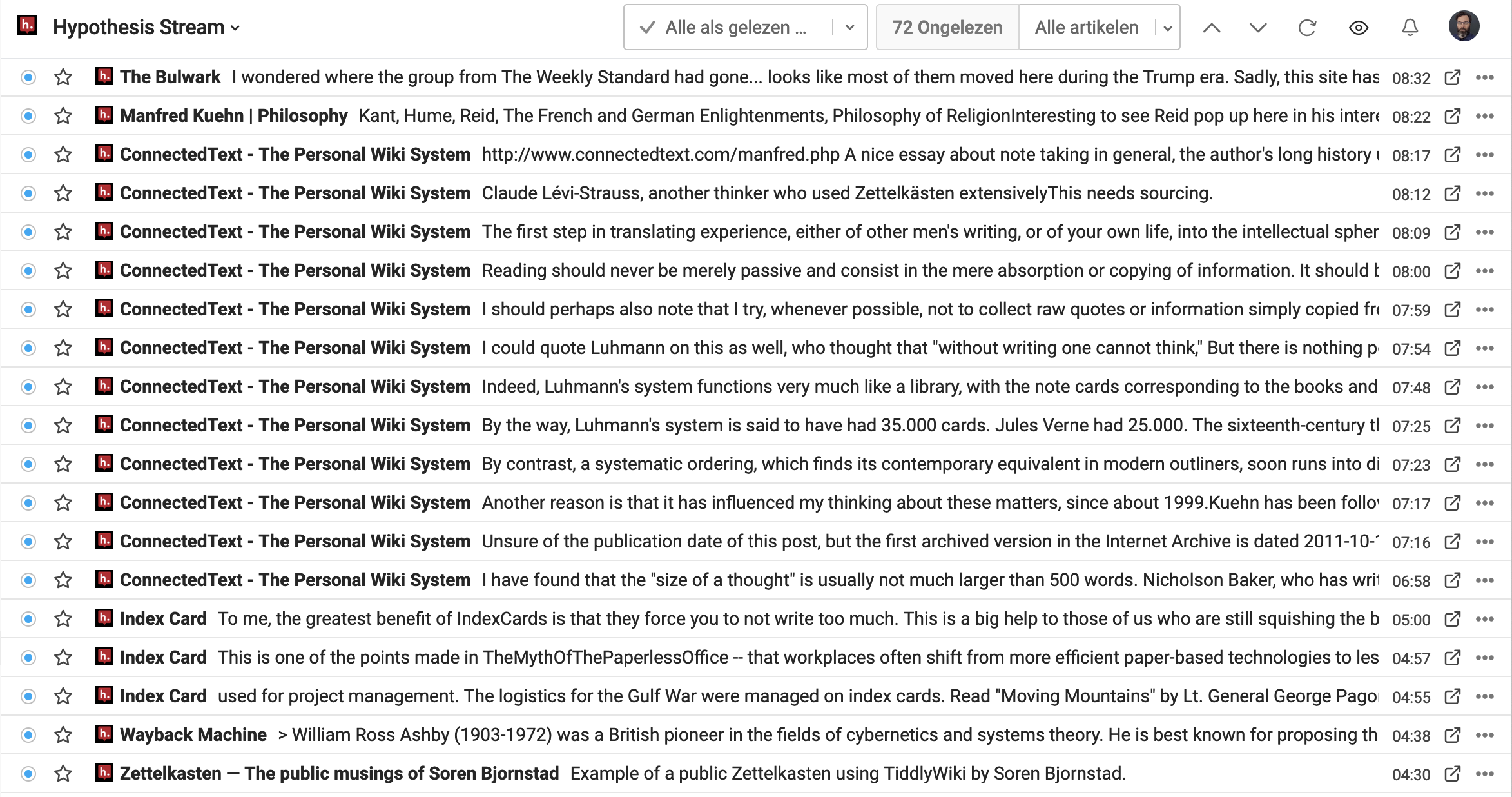 Alsof je meekijkt in zijn garage. Het vijlen, timmeren, schroeven, proberen, klooien aan materialen. Tot er iets nieuws uit komt. Een nieuw artikel zoals zijn fantastische overzicht van diverse commonplace books variaties. Een nieuwe gedachte. In plaats van de kant-en-klare blogposts of de glansgepoetste gedachtensprongen op iemands site, lees je mee in het proces.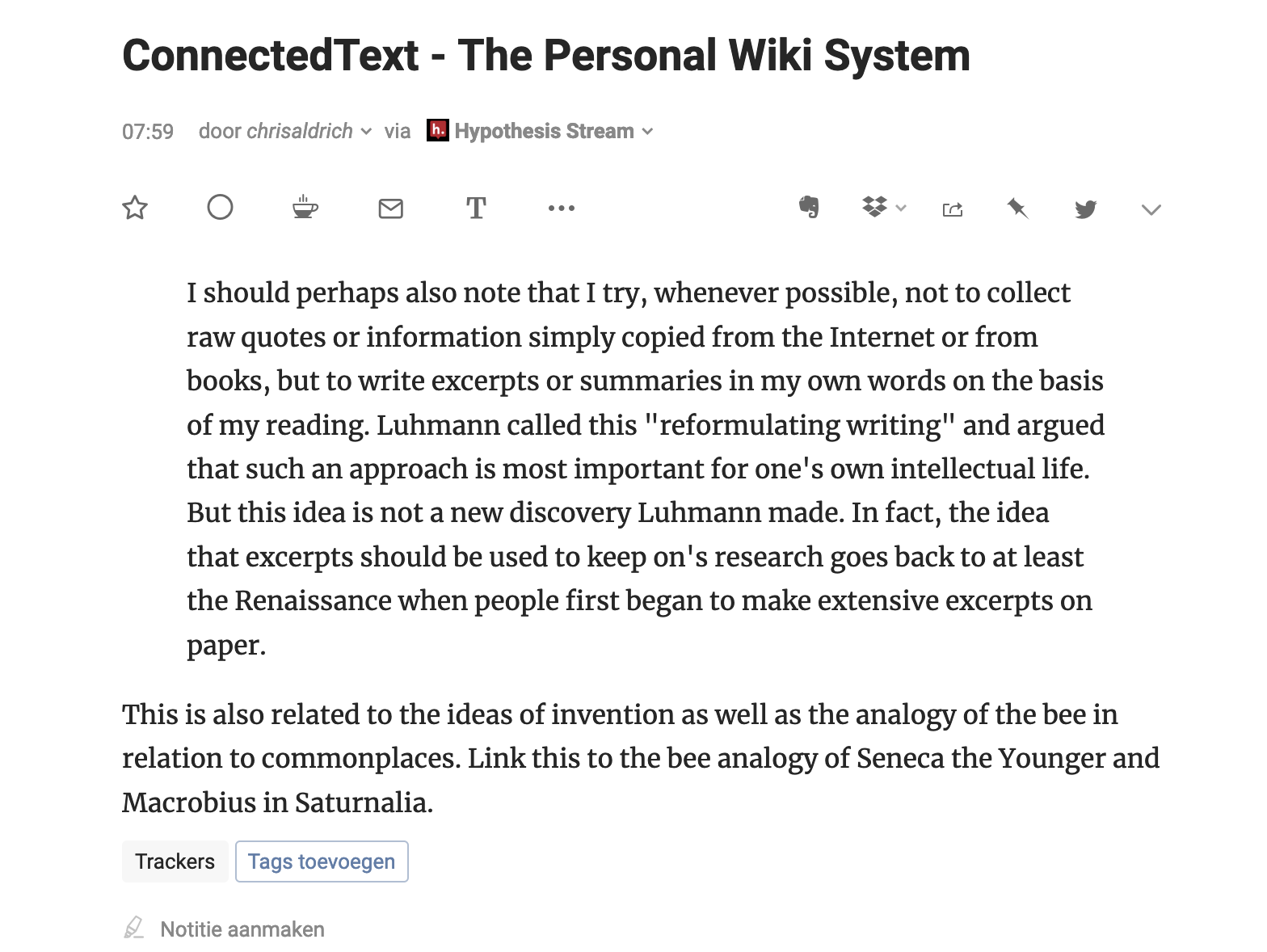 Chris gebruikt Hypothesis. Een prachtige dienst die ik soms nog gebruik maar eigenlijk net te weinig om er profijt van te hebben. Wat me nog tegenhoudt is de workflow van Hypothesis. Ik heb zelf een keer een combinatie gemaakt van Hypothesis, WordPress en uiteindelijk Obsidian, maar die werkt net niet lekker genoeg. Ik zou daar nog wat aan moeten vijlen.
Ook de flow vanuit de stream van Chris naar zijn bron is voor mij omslachtig. Dat heeft te maken met de manier waarop Hypothesis zich nestelt tussen de notitie en de bron. Als ik doorklik van een notitie van Chris om het complete artikel te lezen, dan zit daar altijd een tussenstap via Hypothesis. De uiteindelijke URL is altijd gekoppeld aan hypothesis. Chris heeft zo nu en dan een aparte notitie met de oorspronkelijke URL. Ik vermoed om dezelfde reden, om als nodig Hypothesis te omzeilen.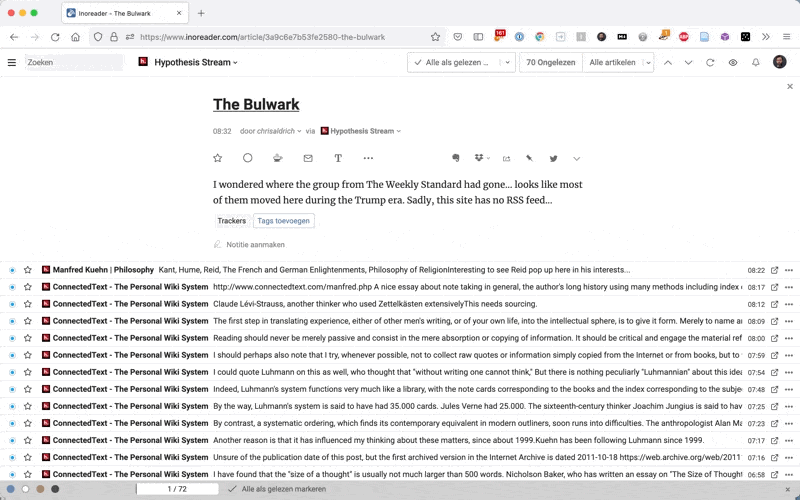 Abonneren op andermans notities kan overweldigend zijn, op sommige dagen zijn het véél notities. Maar dat weegt niet op tegen het voordeel dat ik nieuwe bronnen ontdek die buiten mijn eigen blikveld liggen.
Ik ben erg benieuwd naar de Gardens and Streams popup sessie die ergens de komende tijd zal plaatsvinden. Over commonplace books, notetaking op persoonlijke blogs en communicatie tussen notities over sites heen.